Display your love for the Minnesota State Fair with our latest commemorative artwork!
The 2022 Minnesota State Fair's Official Commemorative Art was unveiled at the State Fairgrounds on Thursday, June 9, by Minneapolis artist Leslie Barlow. Surrounded by State Fair enthusiasts, she presented her vibrant and joyful oil painting for the first time. Her 3-foot-by-4-foot original painting will be on display in the Fine Arts Center during the 2022 Great Minnesota Get-Together, Aug. 25 through Labor Day, Sept. 5.
The original artwork is a cosmic and youthful look at the fair. "I wanted to communicate the energy, excitement and joy that the fair brings me," said Barlow. "The fair often feels otherworldly, especially near the midway, with all the sounds, laughter, bright lights and activity. I wanted my work to represent that."
"I often paint people of color and love our skin tones to be really vibrant and beautiful," she said. "In this piece, you also see the neon lights from the midway reflected in the faces, communicating how bright and lively the fair is at night."
Although the painting presents one cohesive image, it is actually a collage. "I wanted the painting to look like a snapshot, but in reality, each element is from a separate image. For example the people are from one photo and each of the rides are separate too," said Barlow.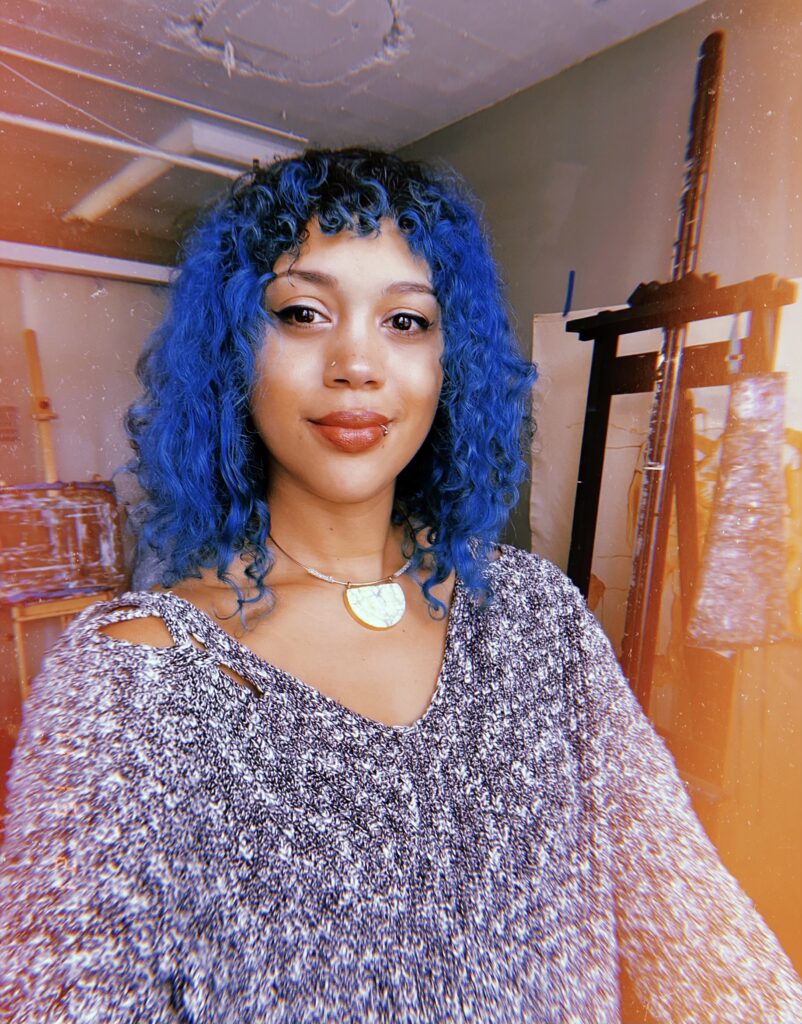 About the 2022 State Fair Commemorative Artist
Leslie Barlow is a visual artist, educator and cultural worker. Her life-sized oil paintings are inspired by community dialogue and personal experiences, and often serve as both monuments to community members and explorations into how race entangles the intimate sphere of love, family and friendship. "I often paint the kinds of narratives and portraits that feel underrepresented in our visual culture, images that would have been meaningful for me to witness as a young person," Barlow explained.
Read more about the 2022 commemorative artist.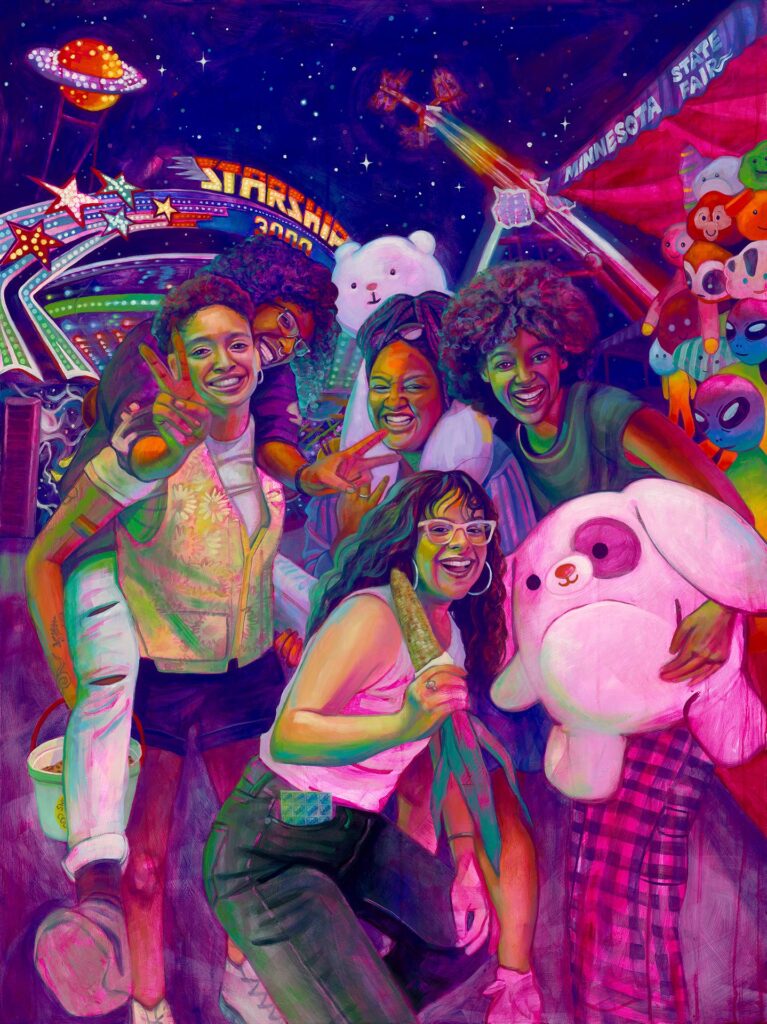 Commemorative Art Posters and Merchandise
Posters and other merchandise can be purchased through the State FairWear Online Shop.
Posters are also available during the twelve days of the fair at the State FairWear Gift Shops, Fine Arts Center, J.V. Bailey House and Blue Ribbon Bargain Book Carts located around the fairgrounds.
Proceeds will support the Minnesota State Fair Foundation 501(c)(3) mission to preserve and improve State Fair buildings, fairgrounds and educational programs. The original art will be on display in the Fine Arts Center during the 12-day run of the 2022 State Fair.
Limited Edition Prints
The hand-signed print for the 2022 State Fair measures 18″ x 24″. Limited availability.
There is an additional shipping charge of $35. You may also pick up the print from the J.V. Bailey House on the fairgrounds between 8 a.m. and 4:30 p.m. or during the fair between 8 a.m. and 8 p.m. for no additional charge.